Don't know if anyone else but me could hear it, but there was some whip crackin' 'round the Chaos last night...
For those of you who don't know...I like the
PowerPuff Girls
...especially Buttercup. Not only does she dress in green (hello, my fav color), but she is a badass little Superheroine - she of the kick ass first, ask questions later school of Superheroing...
First, a view of my current Buttercup/PowerPuff Girls collection...massively downsized after the office closed as I kept it all there. Posing of course with Marvin, the resident DFS (Dalek for Scale).
Yesterday...which I'm pretty sure was Sunday, Antonella and I headed out for one of our favorite San Francisco destinations -
Chinatown
. Time chitchatting on BART, walking up and down Grant Street...nom nom nomming on giant sesame balls...OMG YUM! And generally browsing the stores trying to stay out of trouble - as in not spending too much.
Anyway...here's my latest addition to the Buttercup Collection. It was an impulse buy I could not resist. I've been wanting one for ages...and it was on sale for $10. As I hadn't seen any PowerPuff Girls stuff lately, I pretty much pounced on it...and brought it home. Here she is with Marvin.
My brand new Buttercup Alarm Clock. Yippeeeeee! SCORE!
One of my favorite pieces from my collection, besides the hat is this little gem...came in handy at work...whenever anyone ticked me off...you'd hear this...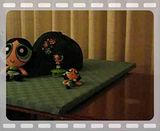 Struck terror into the heart of many programmers...let me tell you. Usually happened right before I threatened to cut off all their access to the source code...
Anyway, I was hoping for an alarm along those lines...you know...
PowerPuff Girls theme song
..."I'll Whoop your Heiney if you don't get up" kind of thing.
Instead, I got this...
WTF is up with the "Little Mermaid" music?!? GAH!
So... "she" got this....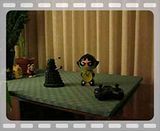 Between me and Marvin, we took care of her. She is now a SILENT part of my Buttercup Collection...
Although I do think she would be perfect to set off in Spencer's room at about 5:30AM next Saturday. Bwahahaha...yes, I am an evil Mother. That's what he gets for losing his house keys while I was off on vacation.
ANYWAY...back to the title...setting off that damn alarm jolted me back into reality...WAKE UP WAKE UP it said...(add whip cracking noises here)...I listened. Reality rushed back into the Chaos and I've been taking care of business here. No more moping about the house. Vacation is over, I can't use Jet Lag and Time Change as an excuse any more. Honey is not here. I am not there. That reality sucks, but nothing we can do at the moment. He'll be back in these parts in June. In the meantime, life goes on, stuff needs to be done...projects need to be finished and started...I think I'm finally in the mood to knit!!! It's been a month now since I've picked up the needles. Good Heavens girl...get with it already!!!
And no, I didn't turn the volume up just for the video...that's the "normal" volume... there is no mute or volume adjusting switch...that damn thing is so loud it could wake the dead. But now it is silent...gloriously silent...and it shall remain that way until I choose to torture my teenager with it.
Watch out! She's baaaack...
PS...notice snippets of sweater sleeves. Isn't it gorgeous? And yes, I will get on with the trip photos and stuff...and post pictures of the sweater. Good grief people, one thing at a time.