OOOOOOOOOOOh....guess what Ms Cow and I did last night...
We busted out the top whorl spindle and the coppery brown fluff and drafted, and spun and twisted and cursed and voila!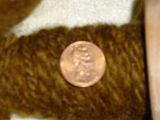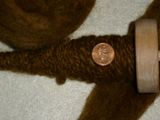 It's not even, my drafting skills need more work...but we don't care.
WE MADE YARN!!!!
Here are some better photos of my Stitches haul of yarn:
Cherry Tree Hill Socks -Wisteria Colorway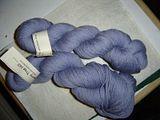 Jojoland Harmony - the colors are so soft and yummy...I already have decided a pattern for this one.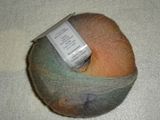 Yarn Place Grace - LOVE the colors on this!!! MINE. Still trying to find a pattern for this...