...honest I haven't. I've been busy making these...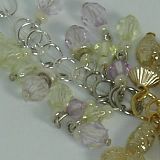 ...and these...
...and these...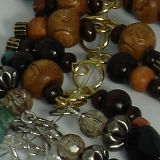 Ladies and gentlemen, you are looking at some of the 50 (yes 50!) single stitch marker samples that I just shipped off to
Phat Fiber
- go ahead and see what it is...and don't forget to come back. hee hee I was accepted as a contributor to the April Phat Fiber Sample Box.
Every monthly box has a theme, April's is "Green". Samples for the box could be either green in color, or eco-friendly, or organic, or upcycled/recycled, etc...
My single stitch marker samples were all made from beads and dangles from jewelry that I've been collecting for the past year or so. I've collected all types of bracelets, earrings, and necklaces that would have been tossed into the trash or stuffed away in the back of someone's jewelry box and reworked them into some very pretty things.
I've been spending the last week, with the help of my wonderful tech-savy Honey, getting everything ready to go. Contributors had to have a set of graphics - Honey helped tremendously with those - to submit to the site for advertising. I also had to do some writeups - Honey was my proofer - a second pair of eyes to give everything a good once- or twice-over...and a gorgeous set of blue ones they are! ahem... anyway... Then the samples needed to be made up, packaged and shipped off - Spencer helped me package them last night.
I'll post soon about what's going on over here in the Chaos including why I'm sending off samples!
Photos and links and all sorts of info soon!