Yes, I'm late again. I've been down with the worst stomach flu I have ever had...EVER. Things have not been pleasant here in the Chaos.
I did manage to remember, in a moment of rare conscious activity, to actually take the following video (yes, Sammie on video!!!) and photo on Monday. Not bad for laying half-conscious in my bed...
Enjoy...
Here is HRH Sammie performing her daily Royal Bath...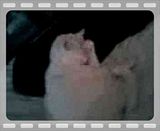 And the resultant Rest After Bath...
Stay tuned for an awesome "This Really is a 30 minute Meal" Recipe and some knitterly projects. And some non-knitterly projects.
I have to gather all my photos and get some rest.