Hello everyone. Today I'm turning over the blog to some guest bloggers who will be making appearances every so often. All that excitement over bikes and tires and evil poking thorns has just worn me out. I need a rest.
And now, take it away guest bloggers!!!
Hello evriwone! My name is Ms Cow. My bestest frend Cow and I will be stepping in whenevr Donna gets too bizzy or lazy to blog. Today we are just going to tell a bit abowt ourselfes. I'll go ferst.
I live with Donna and Spensr in there howse in Kalifornia. My best frend Cow lives in Eenglind with her Honey. My othr frends are Kitty, Sock Munky, Marven the Dalek for skale and Sidney the knitted Dalek (he also livs with Honey and Cow very far aways). Cow and I haf desided that we haf a solushun for this far away stuffs. I am lerning how to drive and will drive across the U.S. to meet him when he sales over in his bote.
Here I am bukled in safe.
I likes to du many things but will safe that for othur posts.
And now it's Cow's tern: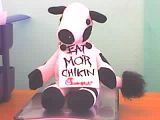 Helo evribody. My nam is Cow and I liv in Inglund with Martin. My bestest frend is Ms Cow but she lives a long long way away with Donna so I hav maid a cuning plan. I hav desined a bote so I can sale acros the see. Martin has tort me som notts and I hav red a buk abowt saling and I hav bean lerning navygaiting with his gps. It is very esy cos you pres a buton to tell it were your going and it tells you were to turn left or rite and even wich rode your on. Heer is a pikchure of the bote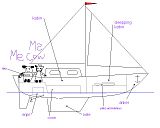 Martin ses we hav to maik a complykated pikchure cald a lines plan befor we maik the bote so I hav bean helping him do that. Wen he isn't luking I maik it a bit bigger so ther is mor rum for Ms Cow to hav cow partys! But don't tel him that or hell be cros.
My other frends are Soc Monkey, and Sidney and Marvin the daleks. Next time I will tell you mor abowt them, and abowt wen Martin and Donna took us on a ship, and we sat in the captens char.
Mooooooooooooo
Heer we ar togethr on a visit
(Editor's Note: The Cows didn't want me messing with their spelling this time out. I told them they really need to take advantage of the spell check function as I'm not going to spend all day correcting their spelling - I'm supposed to be on a break!!! We'll see how that works as they are both very stubborn.)