To say that I am very happy it's Friday is an understatement.
This week has been rough.
I've had the sinus issues from hell, headaches included...oh the aching head...Sigh.
Work has been hard to do and just plain hard...just can't get all that excited when you've got one foot out the door, know what I mean? Especially when you'll be working your fingers to the bone until the other foot makes it out the door. Sigh.
My favorite hair stylist has fallen off the face of the earth. Short version, I have been very bad and haven't been for a haircut since last March. Decided I should get my hair done all nice for the impending interviews. No salon, no Chris, no forwarding info left on the window. All long gone. Sigh.
Another friend got laid off today. And more friends fearing the worst. Sigh.
Every mainenance worker that ever lived, has been right outside my apartment window today. It's usually quite noisy round these parts during the day. But today has taken the cake. We've had tree dudes here this week with chainsaws trimming the big pines scattered throughout the complex. Today they have been right outside my window. All day.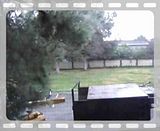 I have been listening to saws and the chipper thing. All. Day. Long. SIGGGGGGGGGGHHHHHH.
Not to mention, the carpet cleaners with their noisy van. Oh and the complex is having the pool resurfaced. Yeah, that truck makes a shitload of noise too. Sigh.
Oh, and the ever present Leaf Blower Dudes. Rain or shine those asses are here with their stupid leaf blowers. Haven't you blown everything away... YET?!??!?!?!
SIGH.
OH...AND HAVEN'T ANY OF YOU NOTICED IT'S FREAKIN' RAINING?!?!?!?!?! HELLO! RAINING!!!!!!
Yes, the headache is getting worse. And I can't even go lay down and relax cos I'm on the corner and one side is the pool and carpet trucks, the other is the chipper, saws, and blowers.
So yeah, Calgon...come take me away from the madness!!!
Oh and the cat slept thru it all! The NERVE!!!!
Gah.
Knitting on the argyle scarf continues...still...23 of 30 or so repeats done. Remember when I first started and said I needed to do 16 repeats? Yeah, Donna and her brilliant Maths strike again.
Shouldn't be allowed to play with pointy sticks. Really, I shouldn't.
I'm trying to see the bright side here...more than half way done. Not working. Sigh. and GAH.