From Son of Stitch 'N Bitch
TAAAAADAAAAAAAA!!! Photos of Spencer modeling at the bus stop on the way home.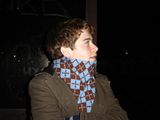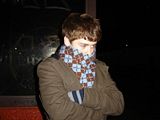 Details on Ravelry - yes, I've actually updated Ravelry with a project! Wonders never cease...I'll be adding more as I find photos and notes of other projects already completed. I'm going to try and keep up with adding things as I start them - it's not as time consuming or hard as I thought it would be...
For those not on Ravelry, here's the quick and dirty.
Yarn used was Knit Picks Swish DK in Cinnamon (brown) and Skyborne (blue) colors. Three balls of each. Size 5 bamboo straights.
This sucker is 6" wide x 84" inches long.
Let me tell you...that's a shitload of double knit!!!!
As much as I loved working this pattern, I really don't think I'll ever do it again. It was a bit too much - it was tough going thru the middle, but once I got over that, I cranked on it 'til it was done. I will do double knit again, just in something smaller. A lot smaller! :)
The pattern was easy to follow once I got the hang of reading the chart (first time using a chart!) and switching colors back and forth.
Spence loves it - it's warm and the 100% Merino is very soft on his skin - we are both wool sensitives, but we can handle Merino wool.