What does one do on Valentine's Day when your Honey is far away?
Chat online for a few moments...miss him very much, drag yourself and your son to an indoor soccer game with a friend...
(Ms Cow hanging out in The Precious with Honey's Socks - the boys won btw)
and then console yourself with knitting and tea while your boy child ignores you as he plays on the Xbox.
Since the cat misses your Honey too, make sure she plays knitting along with you.
Sammie reading out the pattern to make sure I don't screw up - cos I do that a lot.
Let's take a break and have some tea...yes, she actually does drink it...
The fruits of our labor. The beginnings of Honey's Socks. (he already knows I'm knitting them and he's seen this photo, so it's ok to publish)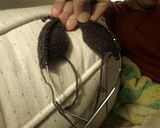 FINISHED OBJECT ALERT!!!!
Oh, and I've decided that the Quick as a Flash Crocheted Blanket is D.O.N.E. Spence and I went to JoAnn's today to get more yarn and they didn't have it. Came back home, looked online, and their website didn't have it. Ask anyone at the store and they won't know when, or even if they will get any more in... Was going to call and special order, but that takes 3 weeks and I'm just about over this blanket - unless I had gotten more yarn like RIGHT NOW.
It's 70" X 60". Not as big as a bed, but pretty damn close enough and way big enough to wrap yourself up on the couch. D.O.N.E.
I'll post an FO photo when I get around to taking one. Someday.