Thought I'd fill you all in on my hookin' progress...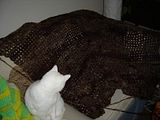 It's going so fast, Kitty almost got whiplash!!!!
It's going so fast that since I took this photo, just on Tuesday night I think...it's grown about a foot. Or so. And I'm almost out of yarn.
So you know what that means. A trip to Jo-Ann's is in order very soon - I predict the day after payday. hahaha
Anyway, I'm almost done with the first two balls of the Jo-Ann's Sensations Rainbow Boucle that I am using. I haven't decided on how much more I'm going to get. I'll either get just one more and work double stranded from both ends of the ball - which is the knitting version of burning one candle at both ends - a surefire way to get totally tangled! Or, I'll get two more giant balls and pull from center on both. At the same time. Cos that what you do when you hold two strands together.
Quizz later.
I guess I'll figure that all out once I've come to the end of what I've got now - see where I am with the length.
There is no pattern for this blanket. I'm holding two strands together and using a very large crochet hook. I made a base chain until it was as wide as my double bed and now I'm just single crocheting every row (with a double crochet row thrown in here and there) until I think it's big enough. :)
What I do know is that it's very soft and squishy and warm. :)
Oh, and I've cast on for Honey's socks. Again.