Been knitting a lot since I decided my wrist was recovered enough to start trying again - I think I started the double-knit beanie about a month ago.
So far: one double-knit beanie for Spencer,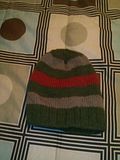 one regular knit beanie for Spencer,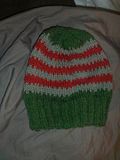 one set of wrist warmers and matching sort of cowl for myself.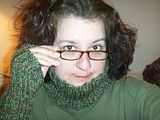 Not nearly enough yarn left for the cowl, so it's a sort of neck warming thingy that can also be used as a headband/ear warmer sort of thing.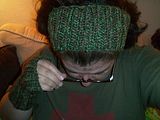 Two multi-colored (brown and several shades of green) balls of Lana Grossa something or other picked up during a browse thru the clearance wall at ImagiKnit after One-Sock-A-Month Club way back a long time ago.
Silly poses yes, but had to get the wrist warmers and the neck thingy all in one...much better than the "Oh my! What's a knitter to do?!?" pose..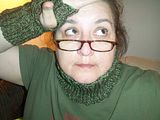 Doesn't seem like much for those of you knitters who have 10 projects in progress and crank out tons of knitted items a year, but it is so very very much for me who has not be able to knit for so long.
I'm a new knitter all over again.
Oh, and I've been doing all this "freestyle". No patterns, just grab the needles and yarn and go! I love it. Can't tell you how liberating it is...creativity-wise.
Love it love it LOVE IT!!!!
And all of this just in time for the warm weather.
Oh, and did I mention the double-knit beanie is too big? Hoping a run thru the washer and dryer will set the stitches a bit and it'll come out a bit smaller. It's not wool, so there will be no shrinkage cos of that...maybe I should use COLD water? ha ha ha
It's some acrylic yarn I bought while Spence and I visited Honey, summer of 2008. Spencer picked it out. It's driving me crazy. Love the colors and all, but it's 3 magic balls of yarn. I knit and knit and knit and I still seem to have the same amount I started with...seems like I'll be knitting up a few more single knit beanies out of it. I can crank those out in a few nights knitting. By the time the balls are finished tho, I know I'll be tired of green, grey, and rust. Good thing there are no more colors like that around here.
Next project is a baby something for my friend Cherry - her little one (girl!! Yay!!!) is due in May I believe. I won't say what it is here as she reads this... I did ask colors and what kind of yarn and all and I think I may have found just the right stuff. I'm going to try and use worsted weight yarn as knitting with larger sized needles feels the best right now.
Still have to be careful with the "new" wrist, so that's why I'm sticking to the larger sized needles. A few more months and I should be able to start knitting on some socks. Surprisingly, I have quite the collection of sock yarn...don't know how all those skanks came into my possession, but there they are...and my size 0 (or are they 1's?!?) square circular needles are waiting for me to grab them by the shafts and caress them with fingers and yarn. Can't wait! Those things are like buttah in my hands. I bought those at Stitches West 2009. I wonder, do they come in dpns too?!?!?
Off to try out my one month trial of Xbox 360 LIVE. Saved off some "instant" movies to watch and might just try my hand at Call of Duty - World at War. Watch out Spence, Mama's got a brand new gun (controller). While I watch a movie, I guess I can whip out an English ball or two and get started on yet
another
beanie. He doesn't want a scarf and scarves take too long for my current instant knitting gratification mood.
No-blog-Rachel...I'm BACK!!!!