OK, so now that I've come out of hibernating for a bit, I think it's time to show off a few things that I've been promising to show off all week.
First we have "My Precious"....a
Pay It Forward gift from AmpuT
. The link will take you directly to her blog post about all the 'making it' details and what she put into it... go there first before you continue here...I'll wait...
And now for my photos....and what I think of the bag...
OK, so I'm calling it "My Precious" - does that give you a clue of how I feel?
I absolutely adore this bag.
It's a bag (and we all know how I love bags, purses, totes...anything that holds other things).
It's all made by hand.
It's Olive green.
It's filled with many wonderful goodies.
It's a handmade BAG!
Look at all the cool and awesome things inside. I was feeling a bit down at the beginning of the week, but then the Postman arrived with this...and well, I almost started crying - my hands were shaking at the thought of such a lovely, thoughtful gift coming to me. Seriously, just ask Spencer. My mood lifted and well, I was just so excited, I put it on my wrist and carried it around awhile calling it My Precious.
Today, I will attempt to ball up the sock yarn (Gone with The Wind "Tara" colorway - how awesome is that). The little tin of notions (LOVE the "crap" and "oops" markers!) have a permanent home in the Precious as does the crochet hook and the purple hair band. I think I will use the crochet hook and some sock yarn I inherited from AmpuT a while back and crochet myself a scrunchie.
And now for a little added something...it kept calling to me...as well as a few of my favorite single beads I had no idea what to do with....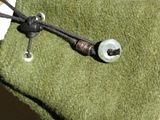 I hope you don't mind AmpuT...I added some of my favorite beads that I've had for ages to the ends of the ties. I never knew what to do with them as they are singles and they were just begging to be put on the bag.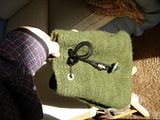 So I listened. And it's even more Precious to me. A wonderful handmade gift filled with goodies and now the new home to some cherished beads.
Right now, it's holding my PIF projects. I'm definitely behind on mine, but I'll be finished very shortly.
And once those are done, it will be carrying this special project for Spencer - until it gets too long that is...
As promised, the double knit Argle Scarf -
shown on the cover of Son of Stitch and Bitch
Yes, Folks,
I
am knitting that scarf! And I am TOTALLY FREAKIN' LOVING IT!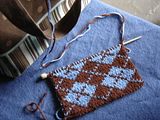 I'm knitting it in KnitPicks Swish DK in brown and blue to match a hoodless hoodie that Spencer just loves to wear...like ALL the time.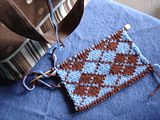 It took me 5 or 6 frakking times (I totally stopped counting after 4) to get this darn thing started and to understand the damn chart and all, but it was definitely worth it!!!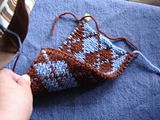 Yes!! That's double knitted Argyle. On
MY
needles!!!
Comments Comment: yes AmpuT, the pockets on that dress are a bit much. They would be way too much for my shortness and wideness, so I'd totally either just make a blouse or would switch out the skirt to be something less pockety. Oooh, a sheath with a belt perhaps....I'm with you tho, it's the collar and all that that hooked me.