Yes, I'm going to drive you all bat shit crazy until this doggone Art Class starts...I'm not on the bus to Psychoville alone folks...I'm taking you all with me. Hee hee hee.
After my doc appt, I went down the street for some retail therapy. Oh, and it's not
my
fault that Ross is just steps away from the Art Store. Not my fault at all.
I found a set of 3 sketchbooks... 5x8, 8x10 and 11x14 sizes in a pack for $20. Can't go wrong there. Here it all is...
and yes...that IS my Buttercup pencil sharpener! Gotta have Buttercup along! :)
And YES...YOU CAUGHT ME!!! I bought a new tote bag to carry it all.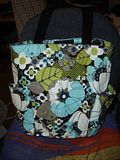 It was on Clearance! (Ross of course). It's Graphic! It has all my favorite colors! I can fit my largest sketch book in it! It's just SO. DAMN. CUTE. !!!!!!
It said "Take me home with you please!" So it came home with me. It said "
please
".
Oh, and it's got a pocket just the right size for Ms Cow to fit in...she's my creative partner, so of course she's coming along. :)
I am ready now for my first day of class. All my new and not-so-new supplies all packed in my new bag. July 7th can NOT come soon enough!!!!
Don't say I didn't warn you.
Oh, and there will be no - "what am I going to wear to school?" in the Chaos. I'll be riding my bike every week, so it will be the usual bike friendly outfits and the pre-requisite braids. Comfortable but not very fashionable.
Almost like a uniform. :)