I have enjoyed being semi-unplugged since I officially stopped working on May 15th.
Have been very busy as well.
There was finishing the Dress.
Really wish I had a dress form....this hanger does NOT do this dress justice...at all!
There was mad, crazy, almost all night gaming at KublaCon...
There was bike fixing, switching out of various and sundry bike bits and pieces.
There has been bike riding almost EVERY day! I've dropped 5 pounds so far... YAY!
And there was not much knitting or other crafting...except for Mom's birthday earrings.
I've been in a sort of a 'crafter's block' situation. My head is bursting with crafty ideas for knitting, sewing, crocheting, embroidery, combinations of all of the above...lots of prototypes for stuff to put out on my shop need to be made...the crafty list is endless.
Yet...I could do nothing.
Enter the craft palette cleanser...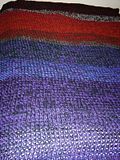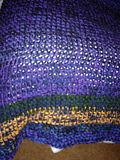 Remember the
"birthday balls"
from last summer?
Well those 45, plus about 5-10 more, along with random balls found here and there round the Chaos, make up this BIG, HUGE, bad boy of a blankie (big enough to cover a twin size bed and then some - in the photos, it's on my double bed). Enter Size S extended Tunisian Crochet Hook, 3 strands held together, and Voila! Check out
Stitch Diva for an easy Tunisian Tutorial
- I also bought my S hook from them at Stitches West back in February. They also have a
pattern
for a stash buster blanket, but I just did my own thing.
The dominant colors in my acrylic stash were black and various shades of dark blue. I held one strand of black, one strand of blue and then just grabbed for colors. The balls were stacked nicely in the container according to color, so I attached one color, used it til it ran out, then started on the next and so on and so on. The photos don't do it justice as it's rather cool looking and flows pretty well from one section to another. Using the black and blue as the "glue" was a very good idea. Eventually I ran out of black and blue and then started in with the other base colors of green and dark red...and then found some more black, so added it back in... It was a fun project!
I started this sucker on the evening of June 1st...worked on it every night that week for about an hour or two, one or two hours over the busy weekend, left it alone until last night...DONE!
Insta-warm blankie, and the acrylic stash is G-O-N-E. At least I think it is....I'm sure more of that stuff will pop up...I swear, it breeeeds.
It's BIG, it's HEAVY, and it's Spencer's. He likes lots of weight and warmth on him in the winter while he sleeps. This should do it.
Craft palette cleansed.
Had an interesting last few days, but will save that for another post. I'll try not to stay away from the computer so much. :)